Chiropractic Testimonials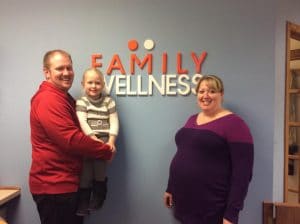 "Dr. Trevor and Abigail are not only fantastic at their office job but they are great people! They presented today at Clinton Community College's College and Career Fair Day. The students I talked to who attended their sessions said they were great presenters who shared so much information! Well done you two!"
-Amanda S.
---
Dr. Trevor has the best doctor/patient relationships that I have ever heard of or seen. He communicates with his patients and treats the patients more like a partner in their health and well being. Doctor & patient work together to keep patient healthy and pain free.
- Julie B
---
I was going to Dr. Trevor for a few months when I was having some back and neck pain. In March 2014 at midnight I was packing for a 7 hour road trip to Kentucky and was leaving at 7am... I was trying to put an air mattress into the bag, when I felt my upper back and neck pop. I was in excruciating pain. I was in such pain that I had to call Dr. Trevor at 2:30 AM for an Emergency visit to see if he can help. He got out of bed and met me at his office at 3 AM and worked on me for 30 minutes and afterwards I felt much, much better. There is NO WAY that I could have driven in a car for 7 hours if I didn't have Dr. Trevor's treatment in the middle of the night. Thank you very much for your INCREDIBLE patient care and a great concern for people's well being. THANK YOU VERY MUCH...
- Eric D
---
Best Chiropractor in the business. I wouldn't trust any other Chiropractor to adjust my family!
- Bryan C
---
River, my son who is1 year old, just had his first appointment tonight. I am thoroughly impressed with their kindness and care for my child from the second we walked in the door.
- Ari A
---
We just started taking our one year old daughter to get adjusted. I'm really impressed with the way they follow up even after the first appointment. I was surprised to receive a phone call from the office to see how my daughter was doing. Trevor, Abigail, and the office staff really care about the patients.
- Abbi B
---
You guys have helped my family and I. I wish there was something I could do more to make you understand how much we all love you!
- Alexis K
---
"Both Abigail and Dr. Trevor have made my life comfortable again! I suffer from crazy low back pain. After following their instructions, I can honestly say that I am improving. Thank you for your care and great bedside manner :)"
- Andy S.
---
"Dr. Trevor and Abigail are top notch. You will not find a more compassionate couple that are so dedicated to the health of their community. I would highly recommend Clinton Back and Neck Family Wellness to anyone looking to take control of their health!"
- Ryan M.
---
"I had never been to a Chiro before, and I'm SO glad I chose Dr. Trevor & Abigail!! They make you feel like family, and not just"another patient"! They are wonderful & caring people, and with Dr. Trevor's help, I feel like I'm on a road to recovery! I would highly recommend this practice to anyone! :)"
-Miranda J.
---
"Dr. Trevor and Abigail are such great people and have helped take care of the pain in my back, which has helped me to sleep better and do my job better. Thank you so much."
- David H
---
"Each of us has a unique and one of a kind body. I trust the care of mine to Dr. Trevor, who knows what he is doing and does it well. He is also a compassionate person. I can relax in his care and that is important when adjustments are needed!"
- Chaplain Sue Williams
---
"I injured my back this year after a cross country move, caused by repetitve motion that caused inflammation in my lower back and extreme pain to the point of being unable to walk or even site for any length of time. I had gone to a chiropractor that practiced the Gonstead method prior to the move and had asked for a referral to someone here in the Clinton area that also used this method.
I found Dr. Trevor who has worked with me and given my life back. He used the Gonstead method which treats the whole body, addressing the pain issues, and at the same time gently adjusts problem areas that were causing pain. I have always felt better after each adjustment. It has taken time for the inflammation to diminish but Dr. Trevor has kept my progress steady. He is a compassionate doctor who I trust completely. I highly recommend Dr. Trevor Tennant to anyone who is looking for a chiropractor who heals with compassion and a gentle
hand"
- Jenifer Barr
Monday
7:00am - 11:00am
12:30pm - 6:00pm
---
Tuesday
7:00am - 11:00am
12:30pm - 6:00pm
---
Wednesday
1:30pm - 6:00pm
---
Thursday
1:30pm - 6:00pm
---
Friday
7:00am - 11:00am
12:30pm - 6:00pm
---
Saturday's Open
7:00am - 10:00am
11/16, 12/7, 12/28
HALLOWEEN: Thursday, October 31st
THANKSGIVING: Thursday, November 28th - Saturday, November 30th
CHRISTMAS: Tuesday, December 24th & Wednesday, December 25th
NEW YEARS EVE: Close Early Tuesday, December 31st
NEW YEARS DAY: Wednesday, January 1st