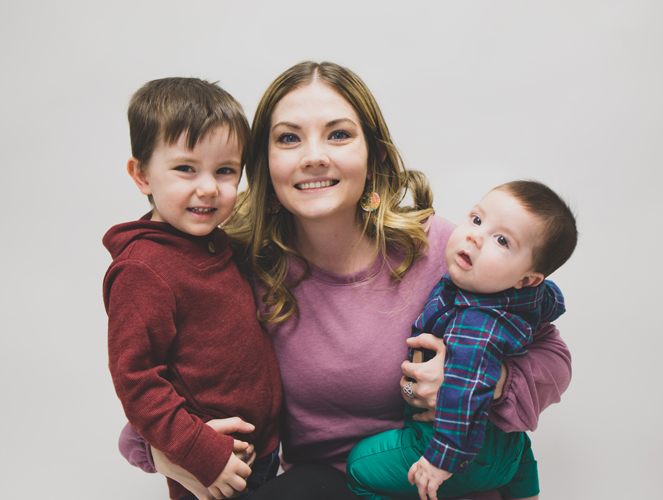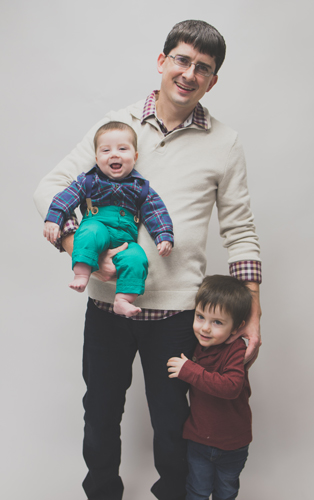 CHIROPRACTOR TREVOR TENNANT, DC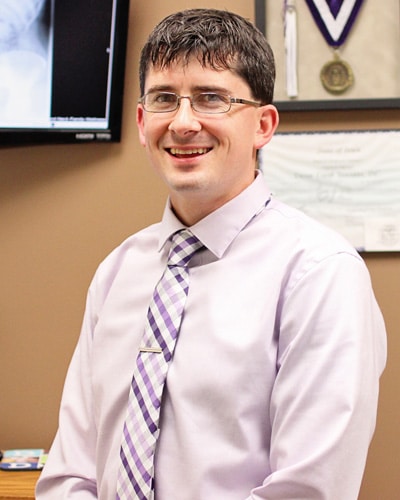 NOTE FROM DR. TENNANT: I was raised in the small farming community of rural Richland Center, WI and graduated from the University of Wisconsin-Madison in 2010 with a Bachelors Degree in Biology.  I attended graduate school at Palmer College of Chiropractic in Davenport and graduated valedictorian of my class in 2013.  Prior to attending Palmer College of Chiropractic, I was personally introduced to the profession following a sports injury in high school.  Like many others, I was faced with limited options including surgery and a life full of medications.  Through properly applied Gonstead chiropractic care, I was able to avoid both of those situations and am now able to provide that same level of care to the people of Clinton, IA.
Today, I use a holistic approach to treat people in the Clinton community.  Through a combination of thorough evaluations, properly applied adjustments, active and passive physical rehabilitation, and nutritional advice, our clinic is able to return your body to a healthy state!
---
Abigail Rose, ASCT, RT (ACRRT)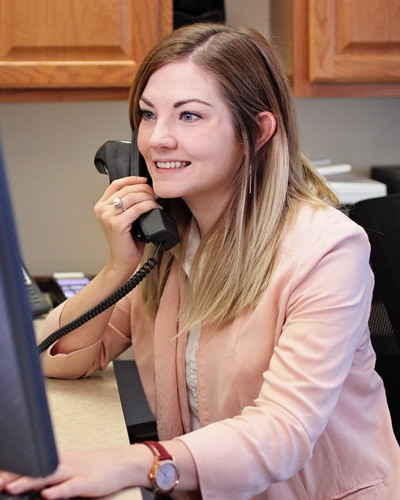 NOTE FROM ABIGAIL: I am from tiny little town called Lyndon Station located a short distance from Wisconsin Dells, WI and came to Iowa to attend Palmer College of Chiropractic. I graduated from Palmer College of Chiropractic in October 2012 with my Associates in Medical Sciences in Chiropractic Technology. I graduated with honors and a service award from the Radiology department. I am a certified Radiological Chiropractic Technologist.
I chose a career in chiropractic because chiropractic changed my life. I had chronic migraines and cluster headaches along with a severely misaligned jaw. I would get very sick and would go days without eating because of the pain. After receiving chiropractic care after only 4 months, my migraines and cluster headaches stopped allowing me to function in my life and I no longer had to take medication to alleviate the pain. After getting my jaw adjusted, I was no longer a candidate for surgery. Chiropractic care changed my life and I know it can change yours!
After two short years of being in practice, we were expecting our first child. Throughout my pregnancy, I experienced the phenomenal benefits of regular care and Trevor's nutritional guidance during pregnancy. My adjustments followed my pre-natal appointments and with this process, I experienced none of the common issues associated with pregnancy, such as back pain, headaches, sciatica, constipation, and reflux. Following the birth of our son, Alden, he has also been getting regular chiropractic care. Chiropractic has helped my son nurse until 17 months of age and keep him a healthy child.
---

OUR STORY
We met working together in Madison, WI. We moved together to Davenport, IA when Trevor started graduate school at Palmer. Trevor inspired me to go back to school and so I decided to join the chiropractic field as well.
Starting in 2013, both Trevor and I were working with Dr. Pam Troxell at the Clinton Back and Neck Care Center. It was here where our fondness for the Clinton area began. It is because of that fondness that we moved to Fulton, IL in June 2013.
We started Clinton Back and Neck Family Wellness to carry on the legacy of Dr. Pam and Larry Troxell and are looking forward to taking care of the members of this community.
Since opening the clinic, we have made educating the community on what wellness truly means for themselves and their families. Since the birth of our first child, Alden, we have experienced first hand how important regular care for children is. Our son was born with Severe Right Kidney Hydronephrosis. He required 2 surgical procedures in the first 6 months of life. Chiropractic care was more important to us now more than every because we wanted to make sure that he was able to nurse well so he could receive the best nourishment available as well as do everything we could to help his body function at its best so he could avoid illness prior to surgeries and recover to the best of his ability. Today, our son is a happy, healthy boy and that is due to the great care of Iowa City Children's hospital and chiropractic care.
---
For the clinic and our family, 2018 was a very exciting year. In May, we welcomed our second son, Jack! Jack was born a late stage preemie and he was born very quickly. With these two events, chiropractic care was very important for him. We wanted to make sure that the quick delivery didn't put any added stress on his body and we wanted him to be able to thrive. Thanks to chiropractic care, Jack is doing just that!
In July, we opened our new location on 13th Ave N in Clinton. We wanted to create a comfortable and inviting place for our patients so that they can get the most out of their care. With the help and support of local businesses and our patients, we feel we have achieved that and look forward to continuing to provided the best possible care to the area.
Since we began our journey in 2013, our practice and family has grown and we could not be happier sharing our experiences with this community.
Monday
7:00am - 11:00am
12:30pm - 6:00pm
---
Tuesday
7:00am - 11:00am
12:30pm - 6:00pm
---
Wednesday
1:30pm - 6:00pm
---
Thursday
1:30pm - 6:00pm
---
Friday
7:00am - 11:00am
12:30pm - 6:00pm
---
Saturday's Open
7:00am - 10:00am
11/16, 12/7, 12/28
HALLOWEEN: Thursday, October 31st
THANKSGIVING: Thursday, November 28th - Saturday, November 30th
CHRISTMAS: Tuesday, December 24th & Wednesday, December 25th
NEW YEARS EVE: Close Early Tuesday, December 31st
NEW YEARS DAY: Wednesday, January 1st